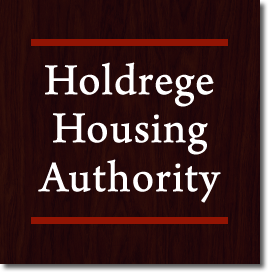 Holdrege Housing Authority

Holdrege Housing Authority
Section 8 Housing Voucher Program
HUD developed the housing choice voucher program – called Section 8 – to provide assistance to very low-income families, the elderly, and the disabled so they can afford decent, safe, and sanitary housing in the private market. Participants are able to locate and choose their own housing to meet their needs, including single-family homes, townhouses and apartments.
Holdrege continues to partner with the Lexington Housing Authority towards existing tenants in Phelps county only. Lexington Housing no longer administers new applications for section 8 in Phelps county. Under the program, participants are responsible for finding suitable housing that meets standards of health and safety established by HUD. If approved, a housing subsidy is paid directly to the landlord by the LHA on behalf of the participating family. The family then pays the difference between the actual rent charged by the landlord and the amount subsidized by the program.
During the application process, the LHA will collect information on family income, assets, and family composition and will use the information to determine program eligibility and the amount of the housing assistance payment. HHA is an approved landlord for the Section 8 program.
Contact:
Holdrege Housing Authority
1422 12th Ave.
Holdrege, NE 68949
(308) 995-8733
Director, Capri Chapman
capri.chapman@holdregeha.org