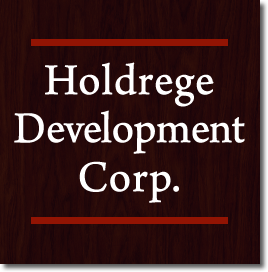 Holdrege Development Corp.

Holdrege Development Corp.
Overview and Mission
Holdrege Development Corporation (HDC) is a non-profit group of local investors, businesspeople, and concerned citizens dedicated to acquiring or constructing housing, rental housing, commercial buildings and related facilities, in order to make them available to eligible persons without regard to age, race, religion, sex, martial status, physical or mental handicap (applicants must possess capacity to enter into a legal contract) or national origin. Whether it be a new housing development, rehabilitation projects, cleaning up lots, demolition or in-fill, the HDC seeks government grants or conventional funding for continuous housing for all incomes in Holdrege.
The HDC's first job was to manage the Down Payment Assistance program awarded to the City of Holdrege by the Nebraska DED in 1995. The program resulted in eight homes being constructed and two additional homes purchased. Recently, the HDC took over administrative responsibilities from the Phelps County Development Corporation (PCDC) for administration of the New Neighborhood grant which created Lincoln Place from the Nebraska Department of Economic Development in 2008.