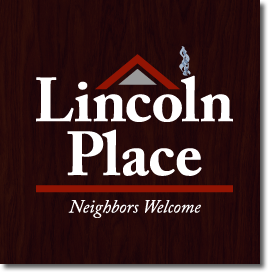 Lincoln Place

Lincoln Place
We're looking for a few good neighbors
Lincoln Place is just the place to call home. Modern amenities combine new houses, duplexes and town homes with a pleasant green space and hike-and-bike path leading to the middle school campus and North Park.
About Lincoln Place
Phase one of Lincoln Place consists of 24 lots on seven acres. To the north, a cul-de-sac called Valerie Circle will feature 12 duplex town homes with similar exteriors and custom interiors. Sidewalk clearance and landscape maintenance will be the responsibility of a home owners association.
To the south, eight custom-built single-family homes will line an extension of Pamela Avenue. Completing the neighborhood, four homes on lots will be constructed facing 12th Avenue.
Our goal is to create a home for good neighbors and a neighborhood that will be an asset to the community for generations to come.
Now building spec homes
If you don't wish to contract and build your own home in Lincoln Place, you may be interested in one of several spec homes to be constructed and offered for sale. Starting at just $237,000, these homes include:
3 bedrooms, 2 baths
Full basements
Appliances
Close to schools, shopping and North Park
Green space
Walking trail
To learn more, visit Lincoln Place at 12th and Lincoln in Holdrege, call us at (308) 995-8733 or fill out our contact form and we'll contact you.
How it came to be
Lincoln Place is funded in part by a grant from the New Neighborhoods Initiative of the Nebraska Department of Economic Development. A total of 17 Nebraska communities competed for the grant, and Holdrege was one of only four communities that received it. Holdrege won based on need and a demonstrated commitment by the community to provide high quality new housing in the moderate price range. Work on the infrastructure, including sewer, water and streets began in the fall of 2009. Lot preparation was completed by the summer of 2010 and housing construction started in the early fall of 2010.