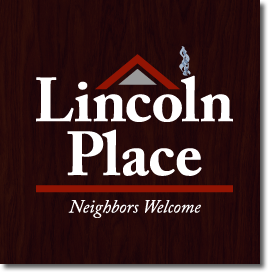 Menu

News Articles
Sites are Ready for Construction
posted: Apr 2, 2010
HOLDREGE, NE — May 23, 2011--Services for the 24 lots at Lincoln Place are complete, lot pins are placed and families are purchasing lots. We now have a beautiful townhome completed on Valerie Circle. A two bedroom home is close to completion on 12th Ave. Blueprints are being approved for single family homes. Spring is bringing alot of action in our new housing development.
"It's exciting to see things happening out there, and to think it won't be too long until we see families moving into their new homes," said Charlotte Erickson, director for the Holdrege Development Corporation, the non-profit group overseeing the project.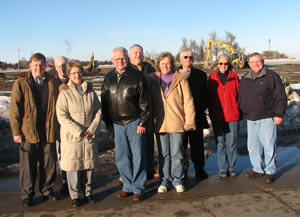 New neighborhood construction under way
Holdrege Development Corporation board members survey the progress of construction at the new Lincoln Place neighborhood at 12th and Lincoln Ave. in Holdrege. Pictured, left to right, are: Terry Buskirk, Robert Engler, HDC Administrator Charlotte Ericson, Jerry Thalken, Doug Simpson, Carolyn Sievers, Kent Person, Cass Orcutt and Mike Williams. Installation of water, sewer and electrical service is currently underway, with work on streets scheduled to begin in May.
"We'll have a mix that includes two-bedroom starter homes priced at around $125,000, larger single-family homes for families priced between $140,000 and $185,000, and beautiful single-level townhomes at around $200,000," Erickson said.
Erickson said that because the new neighborhood is being developed under a grant from the Nebraska Department of Economic Development, down payment assistance of up to $30,000 will be available to those who qualify.
"This is really going to be a beautiful neighborhood when it's finished," Erickson said, noting it will have its own greenbelt and walking path. "People who are interested should contact us soon to make sure they get the lot they want.
Interested parties should visit the site of the new neighborhood at 12th and Lincoln Ave. in Holdrege, or call 308-995-8733 for more information.